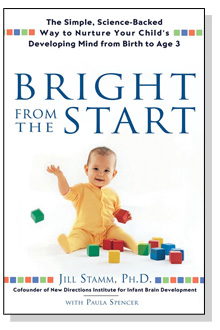 A cutting-edge handbook for parents, from a pioneer in infant brain development, that bridges the gap between the most current neuroscience and practical parenting techniques
.
Should I really read to my baby? Is all TV bad, or only some TV? What kind of toys do babies need? Can teaching a baby sign language really boost IQ? How should my caregiver be stimulating my baby? Should I pipe classical music into the nursery?
New parents are often overwhelmed with information and advice, and in an effort to give their babies the best chances in life they buy DVDs, CDs, toys, and gear all meant to make them smarter. As co- founder of New Directions Institute for Infant Brain Development,
Dr. Jill Stamm
knows what most parents and child caregivers suspect: the way we care for a very young childís developing brain has the power to shape and influence many aspects of his or her life. Contrary, however, to the belief that the "right things" can make your child a genius, the research shows that what your child needs is simpler than you think and within every parentís ability to provide. In Bright from the Start, Jill translates the latest neuroscience findings into clear explanations and practical suggestions, showing you the importance of the simple ways you interact with your child every day.
A leading authority in infant brain development, Dr. Stamm makes new, remarkable findings accessible to everyone in
BRIGHT FROM THE START
.
What babies need isnít a lot of "edu-tainment." What they need is as easy as A, B, C:
ATTENTION: showing you how to increase a childís attention span, and how to balance stimulation with down time.
BONDING: illustrating the importance of developing a strong emotional attachment between a child and a consistent caregiveróand why this is key to cognitive development.
COMMUNICATION: with breakthrough advice for tapping the connection between verbal engagement with parents and higher IQ rates among children.
Stamm also discusses what kind of childcare environment to select, why learning toys donít teach as much as you think, why reading to your baby is critical and why you should limit TV time. Practical games and tips for each developmental age group will show you not only what the latest findings are but more importantly, tell you what to do with them.